E commerce business has set new prominence and records for online community. The market has grown with a rocket speed and changed the mind-sets of people bringing their confidence towards Online shopping. According to Forbes, "For the full year it estimates that US ecommerce will generate $262.3 billion in sales, an increase of 16.4% year over year and slightly higher than the 16.2% increase last year. By 2017 eMarketer estimates that there will be $440 billion in sales for a compound annual growth rate (CAGR) of 13.8%". Now that's really a massive expansion to the online marketing entrepreneurs.
Whenever a person plans to start an e commerce website, the first puzzle that strikes his mind is which platform to choose for development of his ecommerce website. With ecommerce growing at a rapid pace, the e commerce platforms for website development are also growing at a fast speed providing e commerce business owners with a variety of options to go with. Let's discuss some of the top e commerce website design and development platforms ruling the market now.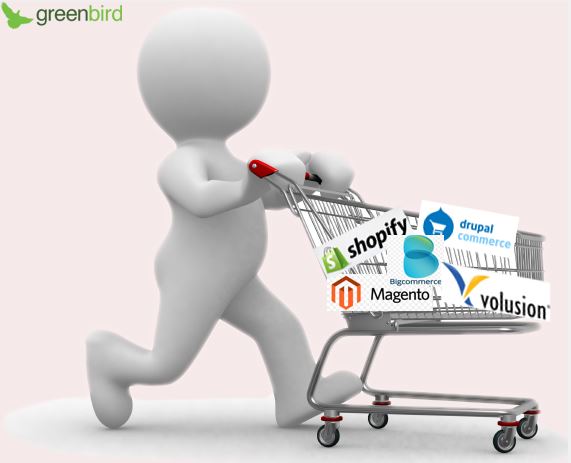 Shopify – Shopify is one of the most popular platform with around 75000 sites using it as an e-commerce platform. It provides a wide variety of add-ons with attractive as well as professional templates to choose from the storefront. They provide a 24/7 customer support to the users with variant ways of getting connected with them. More of business start-ups come up with choosing Shopify because of its easiness, providing good looks and fast speed, and also that it is SEO compliant. It comes with unlimited bandwidth of adding products & other impressive features which makes it most popular. The only concern being the price goes a little higher than other platforms.
Magento – It is a powerful tool with rich features and is well known for its large numbers of plug-ins and extensions available in marketplace. It is a robust platform giving its users high level of functionalities & customizability. One of the best thing about Magento that makes it one of the best content management system used till date is that it is highly scalable & there would be no need to upgrade to other platform on further scaling up in future. For small businesses, it can be too complex as it needs enough server space to work efficiently at high speeds.
Volusion – Volusion also has a big share in the market, covering more than 90% of its market in US delivering its customers a large variety of features with a user friendly interface. It provides a reasonable cart to offer abandoned cart recovery and decent monthly plans availability is there. To its cons. I would say the add-on store is not that large enough like Shopify and BigCommerce provide and also there is no blog setup available.
BigCommerce – BigCommerce is another known platform claiming 17% of the top 100,000 sites which are using hosted e-commerce solutions. It is more popular in small to medium sized web stores. Till date, around 57,000 sites overall have been developed on BigCommerce. It provides a user friendly interface and a large knowledge base which is catered by the BigCommerce University as help resources. It began as a software product developed by Interspire that could directly be installed to your website and became famous after transforming to a hosted shopping cart. It possesses Google trusted store certification assistance and gets easily blend with Google shopping, eBay, etc. BigCommerce has standard range of plans available.
DrupalCommerce – This is exclusively for sites built on Drupal 7 platform. Drupal is one of the most used and reliable open source CMS framework for design & development of websites. It allows the user to build any type of e-commerce website making hardcoded assumptions as low as possible about the business needs of the owner. The smooth integration of DrupalCommerce with Drupal CMS framework gives a top valued outcome over other platforms especially when it comes to content marketing & blog integration. It follows an easy implementation of Search engine optimization strategy.
These are some of the most popular tools available in market today, there are many more like WooCommerce, 3dcart, Etsy, etc. Which platform to choose totally depends on the size of your business, your business strategy and of course your budget. These three factors are enough to make you decide what should be your platform. If you still have a confusion, come to us. The team at Green Bird Media, a premier website development company in San Diego knows well how to plan up & execute a strategy for all kinds of businesses, whether that be small business, middle sized or even large organisations. Reach us at (619) 393-6680 or info@greenbirdmedia.com.