Finally, Drupal 8 Releasing on November 19th 2015
The Team and Community at Drupal with their remarkable efforts and hard work now, finally ready with Drupal 8 and its release date is on November 19th 2015. The Drupal 8 is extremely high in standards with an adding 200 new latest features pointing to achieve digital success. Drupal appreciated their team and community members for their effort making Drupal 8 a milestone. Many are expecting Drupal 8 will be blasted in CMS history.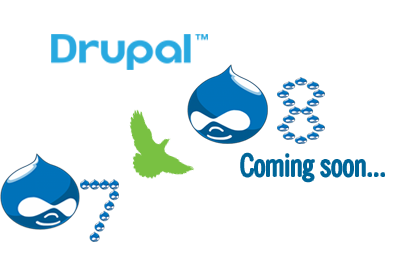 Those who are not aware of Drupal, You can find clear information here Drupal Web Design San Diego.
Drupal 8 Arriving With Latest New Features
Improvement in Theming:
Drupal 8 coming with more latest flexible theming called Twig, which is PHP – based very secure and fast. Drupal 7 was not suitable for the users who don't carry PHP coding skills and now here, With a new version in Drupal 8 you can see a great change, It is very easy to create, edit, can be maintained by non-expert or non-technical users.
Improved With Multilingual Support:
Drupal 7 websites were required to install several modules. But in Drupal 8 it is quite easier comparing to previous one. The new version of Drupal 8 arrives with extensive multilingual features with an easy alternative to create pages with language based views filtered with block visibility.
Five New Fields:
Now in Drupal 8, new fields have been place those are:
Date – Email – Link – Reference – Telephone
Drupal 8 with CKEditor:
Old version does not provide text editor, The New Drupal 8 is with one of the best text editors in market CKEditor.
Quick Edit:
While you log in to your, Drupal you can able to edit content from front page or on the page you are, Thanks to Quick Edit.
Tour Module:
Thanks, to Tour Module coming up with added value information with the help of Tour option link it provides information about pop-ups and can know how Drupal working. In previous Drupal explanation text information was hidden always under help link this choice were not available.
Advances in Authoring:
The most useful Content Editor, WYSIWYG editor CKEditor now combined with the Drupal 8. Now in Drupal 8 with help of advance features you can able to edit the content directly from page it displayed. Allow me explain you with an example, If you want to update images you don't require to go another page to configure it.
Drupal has passed out thank full message to their squad and community members who are around 3,300 in making Drupal 8
CONCLUSION:
We can see there many crucial updates valuable features included in Drupal 8. If you are looking for best Drupal web design company. Has we said you previously about our highly experience in Drupal at San Diego Drupal Web Design and world-wide. We are known to be top in Drupal development services you can email us for fee evaluation and estimation here: info@greenbirdmedia.com or you can Call Us on San Diego (619) 393-6680