Drupal has emerged as one of the most popular open source content management system that has insisted huge number of web developers to be a fan of its enhanced core modules, powerful web designing templates and add-ons. Over the time, Drupal has been serving large business and organisational websites with its upgraded content management system solutions. It gained attention from a large part of world with its version 7.0 released. Now, the freaks are waiting for version 8 to be on the show.

Drupal 7.0 turned out to be as the most stable version till now, it came up with hi-tech database functions for storing the data & advanced template selection along with Java software coding standards. Recently on 12th Nov, Drupal 8.0 beta 3 released with over 200 fixes after its previous release. Even now, there are more than 100 critical issues to be resolved which makes it clear of more beta versions to be released in coming days. Currently, the top priority critical issue that the development team is dealing with is to resolve issues that block a beta to beta upgrade path.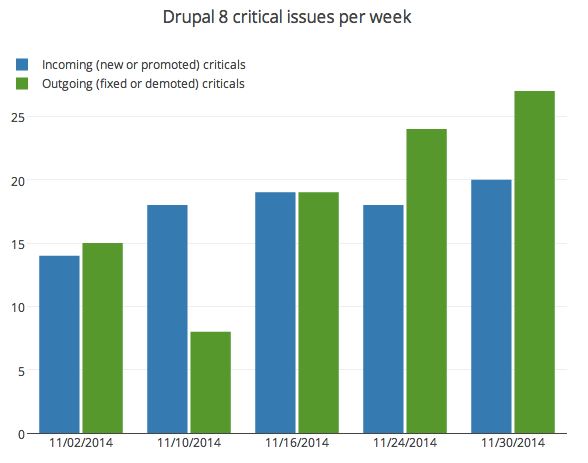 Market is already on a hoax that the new version will have some really exciting features and will leave the previous version far behind. Let's take a at the expected features that could turn out in Drupal 8.0
Advanced HTML5 – The forthcoming version of Drupal is expected to have an improved version of HTML5 with the major extensions of coding provided.
Multilingual Initiative-
Drupal 8.0 is expected to introduce much extended built in language functionality which is very easy to configure. In this, language can be assigned to a lot more things like taxonomy and views etc. With language mapping features & admin language preference, the detection and selection of language will be much improved.
Adding to this, now software interface translation has its own module too i.e. interface translation. Any supported language can be picked and translation is downloaded live. Translation updates for themes, modules and other distributions are also built in within the same module now.
The content copy based translation method in 7th version takes retirement with Drupal 8 introducing a field based content translation solution. It goes with all types on contents, taxonomy fields, user profile fields and so on.
Also, added a new feature to the new version is the Configuration translation which is a complete built in extension for translating the configuration. Not only it translates the site name & built in user roles, also menus, views, etc. can be translated now. For each configuration file, Drupal tracks the language so that it can further translate the consigned configuration from English to other language.
Thus, a simple, complete and easy to use interface is provided to support the process which makes it SEO friendly as well.
Drupal's content management system solutions are highly advanced and stable in terms of usage adoption. According to Wikipedia count, more than one million members of Drupal community and above 31,000 developers are enthusiastically looking forward to the release of Drupal 8.0 with its mysterious features getting revealed. The team at Green Bird Media, a pioneer Drupal website design & development Company is all set to modernize itself with the new upcoming hiss in the Drupal world.