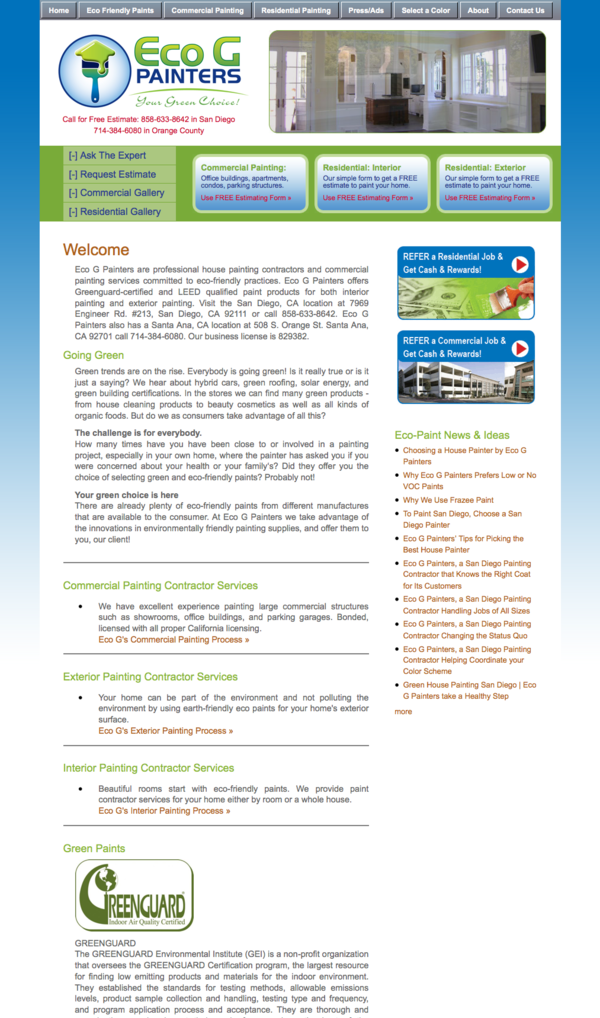 Client: Eco G Painters
Location: San Diego, CA
Scope of Work:
Web Design
San Diego Local Business Web Design & Development
Logo Design
Business Cards
Stationery Set
Signs
Through our San Diego web design work, Green Bird Media has encountered some of the most creative, inspiring individuals and organizations. They transform communities, impact people's lives on a daily basis, and generally leave a positive footprint behind, wherever their paths lead. In that sense, web design in San Diego kind of typifies the change we will never get tired of seeing. So basically, we're glad to help you showcase your ideas, products, and personalities to the whole wide world in efficient, creative ways. It's what we do best.
In that vein, let's talk green.
One of our latest San Diego web design projects, ecogpainters.com allowed us to delve into the newly developing world of green solutions to everyday problems – like the issue of toxic, environmentally unfriendly products in paint.
Eco G, as their name implies, utilizes the power of green to improve the world around us – they're an organic painting contractor. That's right, organic – but not in the campy sense that their paints are naturally filtered through 13 miles of bedrock over hundreds of years before making it to your pad in San Diego. However, their paints are free of chemicals that harm the environment, they're LEED certified, and any lingering worry you might have had about toxins leaching into your home should fade away.
So naturally, when Eco G approached us regarding a new web design to accelerate their growth, we were thrilled for the opportunity to help get their message out. They were looking to generate business, stomp their competitors (who don't fully utilize the power of web design in San Diego, nor the power of green!), and gain some exposure. Did we mention that their paints are organic?
We delivered their design proofs within a couple of days of our initial brainstorming session – within a month, their web site was live and successfully navigating the San Diego web design superhighway. In fact, they say that "the phones haven't stopped ringing since!"
We're proud to have contributed to the success of another business doing great things right in our backyard. Thanks again, San Diego!
– Your friendly San Diego web design specialists at Green Bird Media
P.S. – Don't forget to check out ecogpainters.com
P.S.S. – Does this mean we're organic by proxy?
Visit: http://www.ecogpainters.com