Local Map Results are Right For a Local Business Looking for Phone Calls
Ideal for a local business whose customers are within your business' neighborhood or city. Examples include hair salon, day spa, auto repair shop, etc. Your company's listing will appear on the first page of Google or Yahoo! Local within 4-6 weeks for the target keywords your customers use to find your product or service.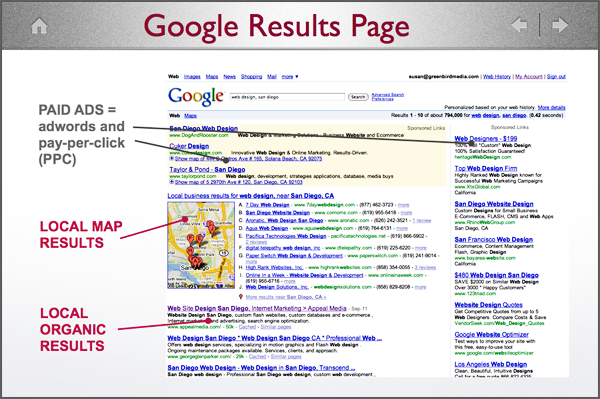 Google assumes that when searching for a coffee shop or other service, that you would like the businesses or results closest to you and so provides a local search result. These results can be less competitive than national searches and also produce higher-converting inquiries.
With careful planning and monthly adjustments, your business can rank for local keywords. Success depends upon the competitiveness of the term. San Diego Realtor for instance, is much more competitive than San Diego Cupcake Baker. Here are some considerations:
Competitiveness
Quantity and quality of people searching for the term
Quantity of local maps available
Local Organic Search is Right for Local Business Looking for Sustained, Multi-term Presence
Ideal for a business whose customers are from a region or county. Examples include pest control companies, caterers, paint contractors, plumbers, interior designers, attorneys and doctor offices. Your company's listing can show on the first page of Google, Yahoo! Local and other regional directories within 6-8 weeks for your customers' target keywords
See a Drupal website at work
Family Kayak Adventure Center came to us with an html site that the owner, Marie Humphrey, updated often with new events and kayak adventures. She had to download the site and hand code pages every time she added or updated one of her events. Drupal is a great solution for Marie's business, because she can use the new website to blog about her adventures and use the calendar to manage all of her events.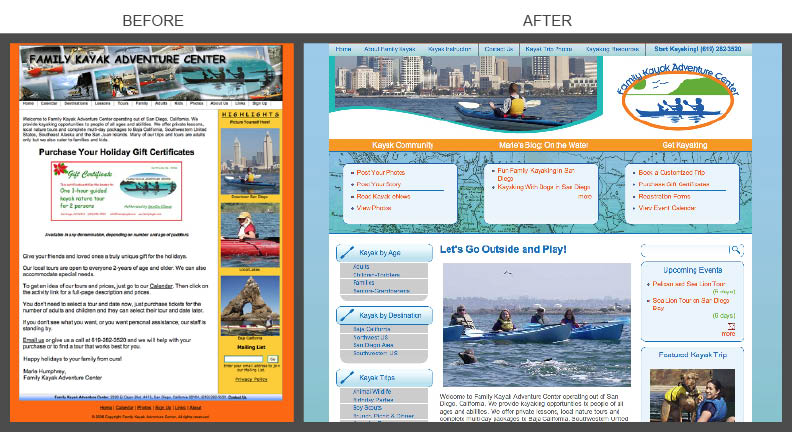 Above is a before and after of the web design, and below is an image of the website editor where Marie can create and edit events, pages and blog posts.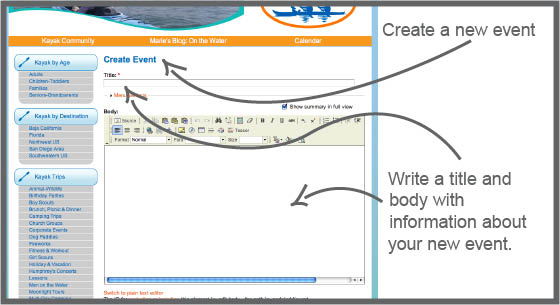 Here we have a search engine results page (SERP) from the Google search: "kayaking san diego" which is Marie's biggest term, you can see the highlighted sections show her website and contact information on page 1 of the Google results. This kind of exposure brings about 200 unique visitors per day to familykayak.com. This may not seem like very many in comparison to huge corporate websites, but it's more than enough for a small kayak adventure company in San Diego.