Green Bird Media (GBM) recently designed and developed a new business website for Family Kayak Adventure Center in San Diego, CA. The previous website was all html, and the owner had to manually update the site and upload a page each time changes were made. The move to a Content Management System (CMS) was a great choice for Family Kayak because the owner can edit content, add events to the calendar and post on the company blog all from one user interface.
The client wanted visitors to be able to see a calendar with all of the upcoming tours, and then book and pay for a trip online. These features were made available by GBM through Event Brite and Paypal.
On the technical side, this site utilizes some new web technology to make all of this possible. Some items GBM implemented on this site include:
Drupal Views Integration
Flickr Slideshow Integration
Family Kayak offers many different kayak tours, and many of them fall into more than one category. The way the views module is utilized on this site, it allows the owner to have a page for each tour, and assign that page to multiple categories such as Adults, San Diego, and Animals/Wildlife, in essence, the categories aren't mutually exclusive. Another feature added into the views module is a slideshow pulling images from Flickr sets. This allows the site owner to update the slideshows on the site on an ongoing basis.
Check out the before and after pictures below!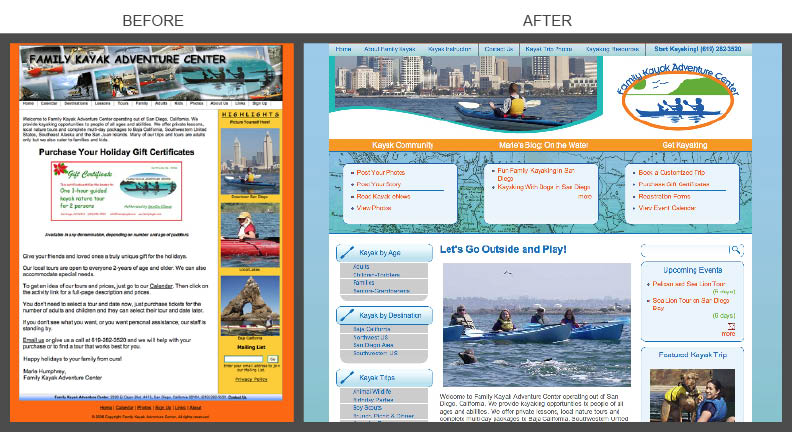 Visit FamilyKayak.com to see more!