Green Bird Media has recently launched a website for management consultant, David Norgard of od180. David specializes in organizational development for nonprofit organizations. The new website features case studies, resources, and David's Management Letter blog with more information about organizational development for nonprofit groups.
The website was built using a content management system with a WYSIWYG editor so David can easily update the site's content as well as post his own blogs. OD180.com features beautiful illustrations, imperatives and inspirational quotes to encompass the spirit of non profit organizations. David wanted a site that speaks to potential and existing clients.
Green Bird Media chose a welcoming color scheme that invites users to explore the available resources and contact David. The navigation allows visitors to reach most pages from any page, which allows them to reach David's contact information within one to two clicks.
David's enthusiasm for nonprofit work made him the perfect client for Green Bird Media, as we share his passion for helping nonprofit organizations succeed. We are excited to present OD180.com and hope to work with more nonprofits and non profit related ventures.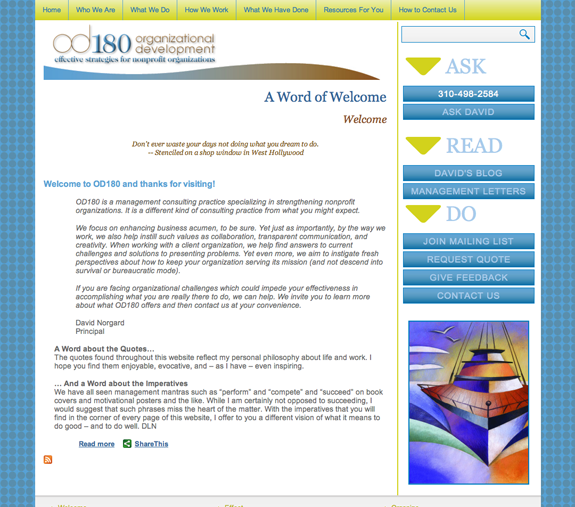 Please visit od180.com to see the full website and to learn about nonprofit consulting.