GREEN BIRD MEDIA – Where Ideas take flight.
We have served over 200 clients so far and rank #1 on google for San Diego Market.
Formed in 2007 in San Diego, we now have place in northern Virginia and service our customers throughout the world.
If you don't have a website, we can build you one.
If you have a website, and it's NOT working, we can fix it.
If you would like to revamp and rebrand, as per current design trends, We can do that too.
If your website does NOT bring new visitors to the website, we can make that happen.
We are CUSTOM website design company and work with you until you're happy and satisfied.
Our website design Solutions:
Listen to what people are saying about our web design and development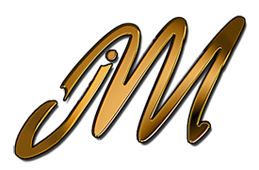 We just recently launched our website developed by Green Bird Media and couldn't be happier with the results. We've received only positive comments from customers regarding our new gemstone jewelry website. We were amazed at how accurately Green Bird Media captured our vision and incorporated everything that we wanted in a website.  We worked closely with them throughout the process always making sure we were on the same page. The staff was extremely friendly and easy to work with. They were all committed to satisfying our concerns. When translating our site to Portuguese, they took initiative and translated several sections of the site by themselves, and correctly!  They worked fast and were attentive. We thank them for all their help and recommend them to others who are in need of a website.
Monica Marques
Owner
Call us at (858) 514-8293  to discuss your new Drupal web design today!
We have many case studies, check out the list below for more:
What can we offer you?
We can design and build a website from scratch -OR-
We can migrate your old website to a new Drupal site.
We can do on-page website optimization to help you rank in the search engines.
We can help you optimize your website to get more conversions.
We can do print design such as business cards, postcards, letterhead and packaging.
We also do website maintenance, hosting and domain registration.
So, what features will you get if you hire us to build your website?
You can always visit our pricing guide for complete details, but here's the down and dirty.
At the bare minimum:
Blogging Capability
Help and Support
On-site Search
Statistics
WYSIWYG Editor
Moving up a level:
Blogging Capability
Help and Support
On-site Search
WYSIWYG Editor
Additional Content
Photo Gallery
Forms & Downloads
Serious website functionality:
Blogging Capability
Help and Support
On-site Search
WYSIWYG Editor
Additional Content
Photo Gallery
Forms & Downloads
Comments
Constant Contact Integration
Contact Form with Spam Filter
Google Maps API
Events and Calendar
Paypal
Sermon Player
Fileshare
Flash Video Integration
Flickr or YouTube Feed
Forum
Google Analytics
Multilingual or Translation Services
Poll
Photo Shuffler
For most clients, not any one of these solutions is perfect, but we are here to work with you to get your website functioning exactly the way you want, and can add on any number of modules to make your website a success.
At Green Bird Media, our website design process begins with your strategic vision. We make sure websites work: financially, as a brand, for the search engines and from the user's standpoint. We understand what users want and what technology can make possible.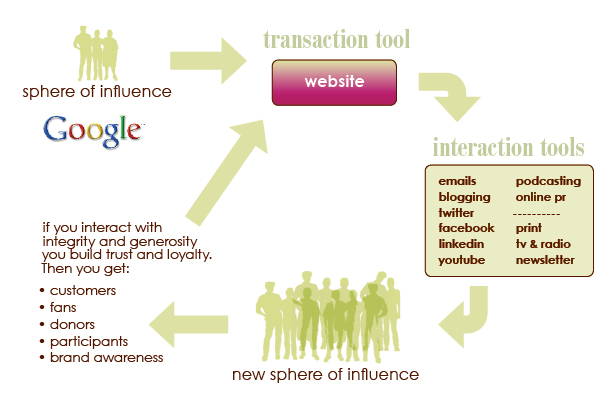 Special Pricing for Non Profit Web Design Clients
We help non profit organizations communicate more effectively to their membership, staff, parishioners, donors and customers through branding, website design and development, stationery, brochures, annual reports, electronic newsletters and more. With affordable pricing and flexible terms, everyone can be an online star.
Non profit organizations such as churches, schools and other entities can benefit from a Content Management System such as Drupal because of their ability to set roles and permissions to give different levels of access to different groups. Contact us for more information about our special nonprofit pricing.
Still not convinced? See a Drupal website at work
Family Kayak Adventure Center came to us with an html site that the owner, Marie Humphrey, updated often with new events and kayak adventures. She had to download the site and hand code pages every time she added or updated one of her events. Drupal is a great solution for Marie's business, because she can use the new website to blog about her adventures and use the calendar to manage all of her events.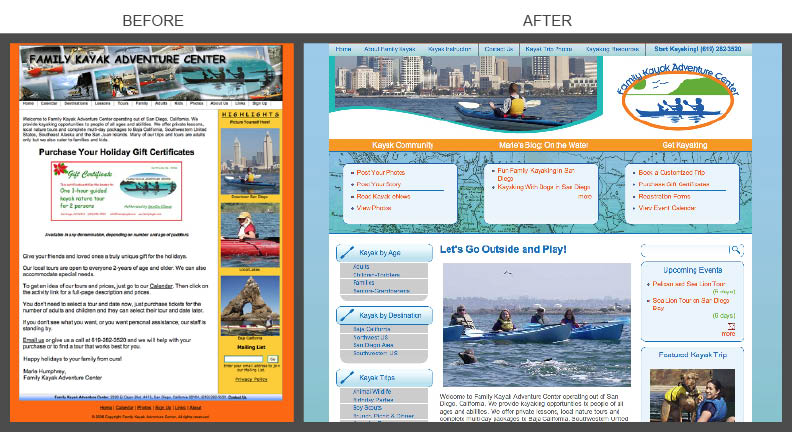 Above is a before and after of the web design, and below is an image of the website editor where Marie can create and edit events, pages and blog posts.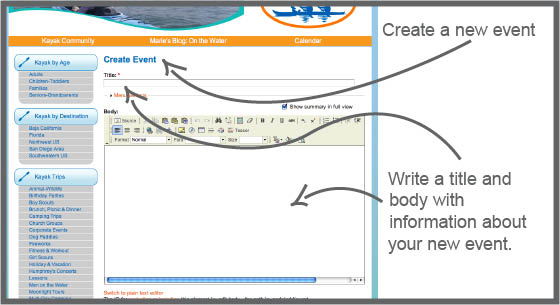 Here we have a search engine results page (SERP) from the Google search: "kayaking san diego" which is Marie's biggest term, you can see the highlighted sections show her website and contact information on page 1 of the Google results. This kind of exposure brings about 200 unique visitors per day to familykayak.com. This may not seem like very many in comparison to huge corporate websites, but it's more than enough for a small kayak adventure company in San Diego.